UK and Singapore sign MoU
Chris Hamblin, Editor, London, 30 June 2021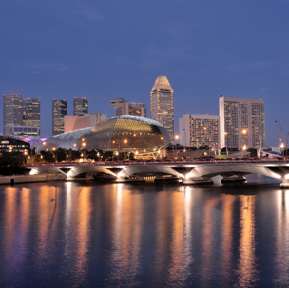 The United Kingdom and Singapore have signed a new Memorandum of Understanding (MoU) to build a more comprehensive relationship in financial services and strengthen regulatory co-operation between the two countries.
Mr Rishi Sunak, the Chancellor of the Exchequer, signed for the UK and Mr Tharman Shanmugaratnam, a senior minister who chairs the Monetary Authority of Singapore, signed for Singapore. As partners, the UK and Singapore will explore opportunities for the sharing of more information, closer co-operation in international fora and "regulatory deference," a term sometimes used to describe judicial deference to interpretations of laws by government bureaucrats.
The two countries have also signed an MoU to beef up their co-operation in the realm of cyber security. This ranges over the sharing of cyber-related information and supervisory best practices. This time the signatories were John Glen, the UK's Economic Secretary to the Treasury, Mr Nikhil Rathi, the Chief Executive of the Financial Conduct Authority, Sam Woods, the Deputy Governor of the Bank of England the Executive of the Prudential Regulation Authority (PRA), and Mr Ravi Menon, the Managing Director of the MAS.
The UK will keep Singapore abreast of developments in its new regime for the marketing of overseas funds and its review of the Solvency II regime for insurance firms.
The promotion of green finance and the development of carbon markets is a high priority for both parties. They place great importance on "the interoperability of taxonomies to facilitate cross-border sustainable financial flows" and will try to exploit similarities between each other's "taxonomy principles and metrics for green and transitional activities." They support the Glasgow Financial Alliance for Net Zero (GFANZ). They also reaffirmed support for mandatory climate-related financial disclosures aligned with recommendations from the Task Force for the Climate-related Financial Disclosures (TCFD). Both countries also welcomed the International Financial Reporting Standards (IFRS) Foundation's work to establish an International Sustainability Standards Board (ISSB) by the 26th United Nations Climate Change Conference (COP26) - another sign that governments are moving in on global reporting standards on the subject.
On the subject of FinTech and stablecoins, the BoE presented highlights from its recently-published discussion paper on new forms of digital money. Singapore said that its review of e-wallet payment limits had progressed and agreed to keep the UK up-to-date. Both countries will carry on working together through the Global Financial Innovation Network (GFIN), and explore collaborative opportunities through their respective Bank for International Settlements (BIS) Innovation Hubs that are hosted in Singapore and London. The UK is hosting COP26 in November and Singapore is pushing ahead with its Green Finance Action Plan. The next "financial dialogue" of this kind is expected to take place next year.